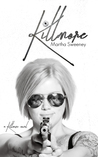 Killmore by Martha Sweeney
My rating: 5 of 5 stars
Killmore is the explosive first book in the Killmore duet by Martha Sweeney. These books are not intended to be read as standalones and you will need to read them in order, to understand the story.
This book totally blew me away and I was gripped from beginning to end. Thankfully I have the second book, The Killmores, to jump straight into as I can't wait to see how this story concludes and how many twists and turns it will take us on, on the way there.
Heroine of the book, Laurie has to be one of the strongest female characters I've ever read. She is totally kick ass awesome and takes absolutely no crap from anyone. Starting off as the wife of a dodgy cop who pimps her out to a major Mexican crime lord, she then goes into witness protection only to discover that her next door neighbour is an even bigger crime lord. Then federal agent Aiden Killmore pretends to be her boyfriend to be able to spy on her neighbour. Totally hacked off with hoe she's been treated by the feds in the past, Laurie does everything in her power to make life hell for Aiden. Through time Aiden breaks down a couple of the many walls she has built around herself and their fake relationship becomes real. However Laurie's life is still at risk and life is far from easy for Laurie and Aiden.
This is a series that I'd highly recommend to other readers. This first book had me on the edge of my seat and I'm so excited to see what happens next.
https://itsybitsybookbits.com/wp-content/uploads/2020/07/IBBB_2020_logo_sq.png
0
0
Karyn Taylor
https://itsybitsybookbits.com/wp-content/uploads/2020/07/IBBB_2020_logo_sq.png
Karyn Taylor
2018-11-27 12:47:27
2018-11-27 13:04:20
Killmore (Killmore Book 1) by Martha Sweeney – Review by Karyn Taylor