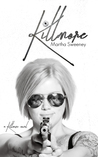 Killmore by Martha Sweeney
My rating: 4 of 5 stars
Killmore by Martha Sweeney is the first book in her new series, Killmore. Categorized as a romantic suspense book I fell hard for this book and couldn't bring myself to put it down until the very end. Getting to see a strong female lead character who also happens to be beautiful and complex really made this a great read. Antonio Herrera is sarcastic, snarky, realistic, ruthless, and best of all protected by the Feds. The Feds are more than willing to look the other way about her dealings with drugs and human trafficking as long as she is willing to play ball with them. But Antonio has always had a hard time trusting those around her when it comes to her business dealings. While the Feds offer sounds good, is it too good to be true? Will she be able to keep those around her safe? How much danger is Antonio in with the Feds? Sweeney is a new to me author, but I am so happy that I picked this story up. The banter between the characters, will leave you smiling and fall out laughing at their antics. The steam in this book will curl your toes and blush your cheeks as well. I highly recommend this book to everyone looking for a great story. I can't wait to see where Sweeney takes her readers in the future with this series.
Reviewed by @toxikcupkake26
https://itsybitsybookbits.com/wp-content/uploads/2020/05/group-blue-01-April-2020-300x177.png
0
0
Ashleigh Harrington
https://itsybitsybookbits.com/wp-content/uploads/2020/05/group-blue-01-April-2020-300x177.png
Ashleigh Harrington
2018-11-20 23:14:06
2018-11-21 05:57:55
Killmore (Killmore Series book 1) by Martha Sweeney – Review by Ashleigh Harrington