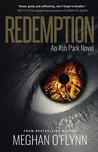 Redemption by Meghan O'Flynn
My rating: 5 of 5 stars
Redemption: An Ash Park Novel (Volume 5) by Meghan O'Flynn
5+++++++ Stars for the book, the series and this amazingly awesome author.
I actually only read the last 2 of this series and am so hooked I can't even tell you, I will have the first 3 and actually think I might want this whole series sitting on my bookshelf next to some other authors that write in this genre, I won't mention their names but you would know who I was talking about if I did mention them. This author deserves to be right next to them and for some of the writing in these stories Id say she even bypassed them, so yeah Im thinking I will add this series to my Christmas list so that I can read it from the very beginning and what a great excuse to read the last two all over again.
I don't even have the words to explain how I feel about this book…The name this author chose is so spot on and I couldn't wait to read it, after finishing Hidden I wasn't quite sure what I would be walking into but I just knew that this author would take care of it and she did not let me down. Oh, thats not saying it was an easy read because it wasnt when some details were explained or we got to hear from a totally different voice, it was those times I just wanted to crawl through the kindle and beat the tar out of someone.
I truly love Petrosky, he's not easy to love but I absolutely do, and Jackson, simply awesome!! I wasn't sure at first but that didn't last long.
I just don't know what else to say without going into this long drawn out review full of spoilers so I think it is best I just stop and tell you to pick these books up, don't start on the 4th like I did, go back and read them all, I can tell there's a lot I missed, although it didn't hinder my ready at all I still know I must have them all.
Brilliant storyteller, I read it in less than a day, and I will read every book this author writes, she is now firmly placed on my favorites list of all time.
Review by @debikircher
https://itsybitsybookbits.com/wp-content/uploads/2020/07/IBBB_2020_logo_sq.png
0
0
Debi Kircher
https://itsybitsybookbits.com/wp-content/uploads/2020/07/IBBB_2020_logo_sq.png
Debi Kircher
2018-11-01 18:45:05
2018-11-01 18:45:05
Redemption: An Ash Park Novel (Volume 5) by Meghan O'Flynn – Review by Debi Kircher