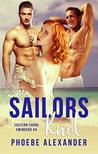 Sailors Knot by Phoebe Alexander
My rating: 5 of 5 stars
I have really fallen in love with the Eastern Shore Swingers Series from Phoebe Alexander. In fact it was with the very first book, 'Fisher of Men', that hooked me on to Phoebe Alexander altogether. She has been a one-click author for me ever since. In 'Fisher of Men' we are introduced to Casey Fontane and I have been dying for her full story ever since. 'Sailors Knot' is exactly that, and so much more. This is part of a series like I have mentioned. With that said, you could read it as a standalone, but I would recommend that you read the others in the series for the full enjoyment. Everything seems to come full circle and I really loved that experience.
Casey is far away from home, fighting cancer, in California at her sister's home. This one was a bit further removed from the actual swinger's club and focused more on Casey's story both present and past, and how it related to the womens from previous books, Paisley and Leah, lives. Oh my word! I adored Casey's story. I did not see that one coming! What is even more ironic is that I really needed this book at the exact time I read it! (thank you Ms. Alexander!) There is some great and amazing lessons in love and acceptance to be taken away from reading and absorbing Casey's story. My heart broke for her, but I also completely understood her and appreciated her decisions that she made.
Whether you know anything about swinging or polyamory, don't worry, this is all done with precision, class, and extensive knowledge. An important thing when you are new or not to reading this or this experience. I also must say something about the amount of emotion that you can feel while reading this novel. Oh mylanta! I was up and down. From about to tears to fanning myself and blushing. I loved every stinking mood swing! I will say you outdid yourself with this one Phoebe Alexander. I can't wait to find out what you will do next!
Review by @lizaileen
View all my reviews
https://itsybitsybookbits.com/wp-content/uploads/2018/09/41350827_531011120653197_5005389383935721472_n-1030x381.jpg
0
0
Liz Vrchota
https://itsybitsybookbits.com/wp-content/uploads/2018/09/41350827_531011120653197_5005389383935721472_n-1030x381.jpg
Liz Vrchota
2018-11-03 07:17:59
2018-11-03 19:20:02
Sailors Knot (Eastern Shore Swingers #4) by Phoebe Alexander - Review by Liz Vrchota