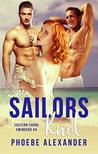 Sailors Knot by Phoebe Alexander
My rating: 5 of 5 stars
Sailors Knot by Phoebe Alexander a five-star read that will twist you in knots. This is the forth book in the Eastern shore swingers series and they can all be read as stand-alone but I have read the series and loved them and this one was just the cherry on top. Casey Fontaine has always been someone I have wanted to hear what she is talking about, as a character she always spoke to me, she had that tonal authority that just made you want to know more about her, find out what her story was, and this story did just that. I loved how we got to hear all about the lives the three main women of the series are living now, we see how its not all roses, but most of all we get to see Casey and her history, how she started in the life. I loved how we get to see Casey's sister Connie, she is someone I would love to see pop up in the Factory. It took a little to get to grips with the back and forth but the clear date lines and set story lines made it easy to keep track and get the most out of the story. I can confidently say that this was my favourite story by this author, it just showed us a depth to her writing that I am glad I had the opportunity to read.
Review by @saraoxo
https://itsybitsybookbits.com/wp-content/uploads/2020/07/IBBB_2020_logo_sq.png
0
0
Sara Oxton
https://itsybitsybookbits.com/wp-content/uploads/2020/07/IBBB_2020_logo_sq.png
Sara Oxton
2018-11-02 12:27:49
2018-11-02 12:42:35
Sailors Knot (Eastern Shore Swingers Book 4) by Phoebe Alexander – Review by Sara Oxton