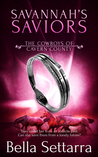 Savannah's Saviors by Bella Settarra
My rating: 5 of 5 stars
Gotta love them cowboys! Savannah's Saviors is Book 5 in the Cowboys of Cavern County series by Bella Settarra. I haven't read any of the previous books in the series but from what I read you don't need to. You can read this as a standalone even though my OCD brain is telling me that I should have read the others! This is a book on a ménage relationship and apparently there are other ménage books in this series. Savannah has suffered a life that felt like a prison by a man that doesn't love her but will not let her go either. When she finally seeks the courage to ask for a divorce he tries to ruin her once more and kicks her out with only the clothes on her back. While walking about down the road she almost gets run over by Greg and Tom. These two seriously hot cowboys take her in and help her get well. There is a serious attraction between the three of them. Still being married proves to be a problem, not to mention Savannah is trying to start over. However, Greg and Tom have another agenda. That agenda is to try and keep Savannah. To do that…they must save her from her past aka her husband. This is a great story. You instantly fall in the love with the characters and the way that the story is written turns this book into a serious page turner! I didn't want to put the book down once I started it! Definitely recommend this book and I can't wait to read the others in this series!
Review by @vegasdaisie
https://itsybitsybookbits.com/wp-content/uploads/2019/09/IBBB_promotions_logo-01-300x180.png
0
0
Melissa Agena
https://itsybitsybookbits.com/wp-content/uploads/2019/09/IBBB_promotions_logo-01-300x180.png
Melissa Agena
2018-11-12 11:08:35
2018-11-13 08:40:10
Savannah's Saviors (The Cowboys of Cavern County #5) By Bella Settarra - Review By Melissa Agena