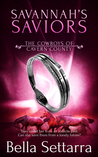 Savannah's Saviors by Bella Settarra
My rating: 4 of 5 stars
Savannah's Saviors is the fifth book in the Cowboys of Cavern County Series by Bella Settarra. I didn't realise when I snapped up this book, that it was number five in a series, so even though it could be read as a standalone, like I have done- there were characters in this book who I felt I should have known more about- that perhaps by not 'knowing' them I was missing out on an added layer of enjoyment. It has definitely intrigued me into wanting to find out, so I will go back and read the other books in the series, too, and see if my feelings were correct.
This book is a contemporary western romance, with a bit of a twist. The story has drama, danger, suspense, action, a little violence, passion, secrets, insta-love, steam, and passion. The storyline includes a three-way/polyamorous relationship between the three leading characters (but it also appears that this isn't the only ménage in the series).
Samantha Edgerton has endured 3 years of misery and heartache in an abusive and loveless marriage. When she finally has enough and asks for a divorce- her husbands reaction is to kick her out into a cold, stormy, winters night with only the clothes on her back. She stumbles for miles in the dark, deserted countryside- she's is exhausted, frozen, and confused. When all of a sudden, a car comes zipping around the corner, almost colliding with her. In an effort to avoid being hit, Savannah loses her footing and takes a tumble. The car stops, and two hunky cowboys come to her rescue. Taking her back to their place and nursing her back to health. But Savannah doesn't know them, and even though they seem kind and caring, her experiences have left her wary. She's not going to trust just anyone. But as she spends more time with them- their mutual attraction grows, and she begins to let down her defences.
Tom Rankin and Greg Jackson work on a nearby ranch. The last thing they expected to find on their way home after a long day, out in the middle of nowhere, during a storm- was a beautiful woman. They are immediately drawn to her, and suspect that there is more to her and her story than she is letting on. But with some secrets of their own, they are determined to help her any way they can. Soon, feelings become involve and passions are unleashed. What happens when her secrets are revealed? And what happens when she discovers what they've been hiding? What will the future hold for these three, especially since she has a violent, snake of a husband who's still lurking out there somewhere?
The chemistry between the three is very instant, and steamy. There are moments where the three are feeling their way through the emotion, and complexities that come with this type of relationship- not just two personalities and feelings to take into account in everything, but three.
The story gives a whole new meaning to the term teamwork, that's for sure!
Thank you, Ms. Settarra!
Reviewed by @angelahayes
https://itsybitsybookbits.com/wp-content/uploads/2020/07/IBBB_2020_logo_sq.png
0
0
Angela Hayes
https://itsybitsybookbits.com/wp-content/uploads/2020/07/IBBB_2020_logo_sq.png
Angela Hayes
2018-11-12 10:09:22
2018-11-13 08:35:12
Savannah's Saviors (The Cowboys of Cavern County Series Book #5) by Bella Settarra – Review by Angela Hayes