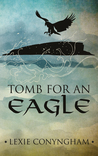 Tomb for an Eagle by Lexie Conyngham
My rating: 4 of 5 stars
Tomb for an Eagle (Orkneyinga Murders Book 1) By Lexie Conyngham. While I wasn't immediately drawn in I still found myself really enjoying this story. It had a bit of a slow start for me but once it picked up a bit I definitely couldn't put it down. There's so many twists and turns that readers are kept on their toes and in suspense. Each character brings something different to the story and the author has a way with attention to every detail. This was my first book by this author but it definitely won't be the last. The author wrote a story that had me guessing until the very end and I'm a sucker for a good story that I can't figure out right away. It's well written and paced nicely never feeling rushed. I'm giving this book a four star review and highly recommend it to anyone looking for something a little different.
https://itsybitsybookbits.com/wp-content/uploads/2020/07/IBBB_2020_logo_sq.png
0
0
Katie Kearney
https://itsybitsybookbits.com/wp-content/uploads/2020/07/IBBB_2020_logo_sq.png
Katie Kearney
2018-11-07 17:15:11
2018-11-07 19:40:39
Tomb for an Eagle (Orkneyinga Murders Book 1) By Lexie Conyngham – Review by Katie Kearney