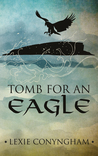 Tomb for an Eagle by Lexie Conyngham
My rating: 4 of 5 stars
I am not going to write a review that references anything within the story because I feel like if I "wax poetic" about the book, I would be giving something away.
I went into this book based on the cover. I had not read a blurb, I did not know what it was going to be about or the genre. If you like "blind books" this would be a good one to go with. Let it settle over you because it might take a little bit to get the rhythm down.
The story is well developed and has layers that we get to peel back as it continues. The author does a good job of plotting the story and following the thread from beginning to end. It's the first book I've read by them and I will continue with the series as it is published. I have put it on my "don't forget to read the next installment of the series" list.
Review by @mauraharper
https://itsybitsybookbits.com/wp-content/uploads/2020/07/IBBB_2020_logo_sq.png
0
0
Maura Harper
https://itsybitsybookbits.com/wp-content/uploads/2020/07/IBBB_2020_logo_sq.png
Maura Harper
2018-11-04 16:03:09
2018-11-04 16:08:30
Tomb for an Eagle (Orkneyinga Murders Book 1) by Lexie Conyngham – Review by Maura Harper