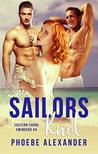 Sailors Knot
By: Phoebe Alexander
My Rating: 5 of 5 stars
Sailors Knot (Eastern Shore Swingers Book 4) by Phoebe Alexander was a steamy, emotional, fantastic read that more than showcased all the elements I love about this serie, it displays Phoebe Alexander's superb writing skills.
I have to tell you that though this book can be read as a standalone it is part of a connecting series, with overlapping characters and storylines, so there are some spoilers in here. I will say I am a little guilty of reading this series out of order, so don't be like me.
As I was saying, this book is a perfect fit to the series, and it is probably on of the best, but in saying that every book in this series is strong, well written and pretty amazing. But this one, I don't know, it just has something, I can't put my finger on it,; but it has something, extra that sets it apart for the others.
If I haven't gushed enough, then let me tell you that this story is a tiny bit different, but still holds that magical charm. It follows Casey, the owner of the famous club. This story isn't set in the present, but the past, her past and tells of love, loss, trying to understand what to define her relationship and pushing through those hard times. I have to say, this book will put your feels through the wringer.
Overall this book was addicting, engaging, entertaining and just plain old azming. So please take my super high recommendation and my stamp of approval that you will love not only this book, but this series.
Happy Reading
Review by @eawalsh
https://itsybitsybookbits.com/wp-content/uploads/2020/07/IBBB_2020_logo_sq.png
0
0
Emily-Ann Walsh
https://itsybitsybookbits.com/wp-content/uploads/2020/07/IBBB_2020_logo_sq.png
Emily-Ann Walsh
2018-11-04 15:59:58
2018-11-04 16:05:54
Sailors Knot (Eastern Shore Swingers Book 4) by Phoebe Alexander – Review by Emily Walsh