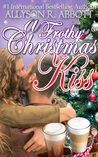 A Frothy Christmas Kiss by Allyson R. Abbott
My rating: 5 of 5 stars
What another lovely Christmas read from Ms Abbott! I really do adore her writing and always find myself completely absorbed in her stories from the very beginning. I love Christmas stories and this is probably one of my favourites, I just felt so warm and fuzzy on the inside whilst reading it. It is definitely one of those stories that could totally be turned into a Christmas film! I know I would watch it! I loved Kat and Dan so much! They were so, so perfect together! They had this connection over coffee of all things but it was something that brought them together! As always the author threw in a couple of curve balls to the story line but I was absolutely rooting for Kat and Dan the whole way through!
A fantastic Christmas read that I highly recommend! I can't wait to read more from this author again in the future!
https://itsybitsybookbits.com/wp-content/uploads/2020/05/group-blue-01-April-2020-300x177.png
0
0
Katie Matthews
https://itsybitsybookbits.com/wp-content/uploads/2020/05/group-blue-01-April-2020-300x177.png
Katie Matthews
2018-12-18 14:18:29
2018-12-18 16:59:46
A Frothy Christmas Kiss by Allyson R. Abbott – Review by Katie Matthews