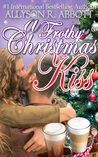 A Frothy Christmas Kiss by Allyson R. Abbott
My rating: 4 of 5 stars
A Frothy Christmas Kiss
By Allyson R. Abbott
Rated 4 stars
This is a not your normal start. Usually the female owns the coffee shop…this time it's male lead. Dan owns a coffee shop. Kat is a coffee fanatic. Match made in heaven right? Not so fast. There is major miscommunication and some jealousy along with some flirtation. This all leads to an entertaining story.
The story seems to drag a bit in some areas (too much thinking) in others it seemed to be over to soon. I am not a huge fan of internalizing their thoughts. I prefer more dialogue…it seems more lively. I was intrigued by this guy being a coffee mixer. What an interesting job!
This is a nice sweet short story.
Review by @lisahelmick
View all my reviews
https://itsybitsybookbits.com/wp-content/uploads/2019/09/IBBB_promotions_logo-01-300x180.png
0
0
Lisa Helmick
https://itsybitsybookbits.com/wp-content/uploads/2019/09/IBBB_promotions_logo-01-300x180.png
Lisa Helmick
2018-12-20 04:08:35
2018-12-20 05:00:30
A Frothy Christmas Kiss by Allyson R. Abbott - Review by Lisa Helmick