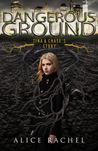 Dangerous Ground: Tina and Chase's Story by Alice Rachel
My rating: 4 of 5 stars
Dangerous Ground: Tina and Chase's Story by Alice Rachel, these stories of full imagination that you think when reading them that actually this could be reality someday.
Dangerous ground follows Tina and Chase's story of the struggles they have in this world of segregation and rules. This is the kind of story has thought provoking parallels to the real world you live in and what would happen to society if just some of the rules applied, it would be horrendous but these characters live through these and seem to find happiness in the smallest places.
This series is well written and as the author said with in the blurb I would recommending reading these books in order, although the story its self can be read as a stand alone their are elements in each book which draws you deeper into this terrifying world and opens up each character to reveal more about themselves the more you read through series.
I really enjoy the writing and the depth of realism that these stories create, the true thought provoking topics have you questioning the reasons and laws that have been introduced. I recommend this series to anyone who love a well written story with a twist of the what ifs.
Review by @ashirley
https://itsybitsybookbits.com/wp-content/uploads/2020/07/IBBB_2020_logo_sq.png
0
0
Angela Shirley
https://itsybitsybookbits.com/wp-content/uploads/2020/07/IBBB_2020_logo_sq.png
Angela Shirley
2018-12-02 04:51:12
2018-12-02 10:28:01
Dangerous Ground: Tina and Chase's Story by Alice Rachel – Review by Angela Shirley