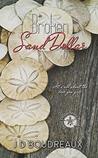 Broken Sand Dollar by J.D. Boudreaux
My rating: 5 of 5 stars
Broken Sand Dollar by JD Boudreaux is the third book in the Sand Dollar series.it is definitely best to read these books in order so you get the full story.
The author has done a great job with this book. Having read the first two books I thought I knew exactly what direction the third would take. However the author took that expectation and completely threw it out. And did it with such ease it made me wonder how I could have ever thought it would go differently.
This book has to be my favourite in the series. I loved reading about Alex and how he was portrayed. This is a great book and a great series.
https://itsybitsybookbits.com/wp-content/uploads/2020/07/IBBB_2020_logo_sq.png
0
0
Kerry Baker
https://itsybitsybookbits.com/wp-content/uploads/2020/07/IBBB_2020_logo_sq.png
Kerry Baker
2019-02-27 15:49:52
2019-02-27 16:57:19
Broken Sand Dollar (The Sand Dollar Series, #3) by J.D. Boudreaux – Review by Kerry Baker