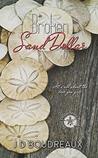 Broken Sand Dollar by J.D. Boudreaux
My rating: 4 of 5 stars
BROKEN SAND DOLLAR is the final story in a trilogy and it's important to read these books in order.
As with the other two books in the series, this is an extremely detailed story. It's one of these stories that brings everything full circle and while I wasn't sure what to expect – it all makes sense in the end.
Once again, the story is told from the male POV (side note: the prologue is a scene that features the cover of book 2 which I thought was super cool) and at times is a travel journal as we ride up the coast.
This whole series has been written with morals and values and is very clean.
Review by @mauraharper
https://itsybitsybookbits.com/wp-content/uploads/2020/02/group-01-01-300x183.png
0
0
Maura Harper
https://itsybitsybookbits.com/wp-content/uploads/2020/02/group-01-01-300x183.png
Maura Harper
2019-03-05 19:58:34
2019-03-06 08:52:09
Broken Sand Dollar (The Sand Dollar Series Book 3) by J.D. Boudreaux - Review by Maura Harper