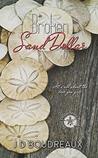 Broken Sand Dollar by J.D. Boudreaux
My rating: 5 of 5 stars
Broken Sand Dollar (The Sand Dollar Series Book 3) by J D Boudreaux
5 Stars
I'm so sad this series is over but absolutely love how this author brought it all together and I was completely satisfied with all that happened in this book. I was off base with my predictions and I was sad at first but then it all made sense to me and I was very happy.
This has been an amazing series, I read book 2 first which was a big mistake because it had me all confused so had to go back and read book 1 to get some of the answers I needed.
I fell completely in love with the characters in all 3 books and loved some of the connections and bonds that were unbreakable and worth fighting for.
I will absolutely read this series again in the future and will recommend it to anyone that needs a good series to get lost in.
Many thanks to this author and I can't wait to see what will come next.
Loved it!!
http://itsybitsybookbits.com/wp-content/uploads/2020/02/group-01-01-300x183.png
0
0
Debi Kircher
http://itsybitsybookbits.com/wp-content/uploads/2020/02/group-01-01-300x183.png
Debi Kircher
2019-02-26 10:33:03
2019-02-26 10:33:03
Broken Sand Dollar (The Sand Dollar Series Book 3) by J D Boudreaux - Review by Debi Kircher