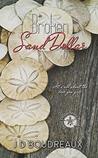 Broken Sand Dollar by J.D. Boudreaux
My rating: 4 of 5 stars
Broken Sand Dollar by J.D. Boudreaux is the third book in the Sand Dollar Series. I really recommend reading the first 2 books before reading this book. The story continues with Alex and his development and progress in life. I really like the story has not always followed the progress I thought it would take. The turns are great and very well done. Alex is a wonderful character whose kindness has brought wonderful relationships into his life. Each of these has helped him to grow as a person and all served a purpose in his life. I have really enjoyed this series and the realness of the relationships. The characters are not perfect and each has their own issues to overcome. I like how the author has handled the situations and made everything relatable. I look forward to reading more from this author in the future.
Review by @sherimichelle1
https://itsybitsybookbits.com/wp-content/uploads/2020/05/group-blue-01-April-2020-300x177.png
0
0
Sheri Schrader
https://itsybitsybookbits.com/wp-content/uploads/2020/05/group-blue-01-April-2020-300x177.png
Sheri Schrader
2019-02-24 20:08:55
2019-02-24 20:36:12
Broken Sand Dollar (The Sand Dollar Series, #3) by J.D. Boudreaux – Review by Sheri Schrader