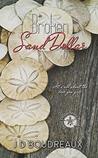 Broken Sand Dollar by J.D. Boudreaux
My rating: 5 of 5 stars
Broken Sand Dollar (The Sand Dollar Series Book 3 by J D Boudreaux. This is a wonderful story about Alex, who had a relationship with Penny but her career got in the way of their engagement. Then there was Leigh his childhood sweetheart who came rushing back but left just as quickly. This book picks up where book 2 left off. After all the disappointments Alex has gone thru he returns to the Gulf Coast where he always feels will be home. He always feels like he has to take care of everyone and that includes Payton, who Alex keeps helping until she gets her life together. Will she leave Alex to go back to her family who she's always wanted to reunite with or will she stay with Alex. Poor Alex has seemed to always get the short end of the stick. Read Broken Sand Dollar to find out if he finally finds happiness.
https://itsybitsybookbits.com/wp-content/uploads/2020/07/IBBB_2020_logo_sq.png
0
0
Tausha Treadway
https://itsybitsybookbits.com/wp-content/uploads/2020/07/IBBB_2020_logo_sq.png
Tausha Treadway
2019-03-04 08:50:02
2019-03-04 09:26:14
Broken Sand Dollar ( The Sand Dollar Series Book 3) by J.D. Boudreaux – Review by Tasha Treadway