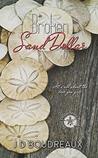 Broken Sand Dollar by J.D. Boudreaux
My rating: 4 of 5 stars
Broken Sand Dollar is the last book in the Sand Dollar Series by J D Boudreaux. As this is the last book in the series, I highly recommend reading the first two books in the series. The story has been building from the first book, Penny For Your Thoughts. The books are a contemporary love story. We follow Alex through his relationships, and it has been a big emotional ride. The characters are complex and can totally be a friend in the neighborhood. One main thing I liked about this story is that it was believable. I found myself talking to my kindle trying to get Alex's attention. There are personal demons that the characters go through, but it was handled like my best friend would assist me in fixing my problems. I hope that you enjoy Alex and take the roller coaster ride like I did.
https://itsybitsybookbits.com/wp-content/uploads/2020/02/group-01-01-300x183.png
0
0
Erica Fish
https://itsybitsybookbits.com/wp-content/uploads/2020/02/group-01-01-300x183.png
Erica Fish
2019-02-25 11:25:38
2019-02-25 12:26:35
Broken Sand Dollar (The Sand Dollar Series Book 3) by J.D. Boudreaux - Review by Erica Fish