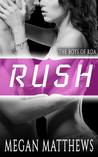 Rush
By: Megan Matthews
My Rating: 3 of 5 stars
Rush (The Boys of RDA #1) by Megan Matthews was an okay read that was a little bit of a slow burn.
This quirky dream guy fantasy like read has all the things I look for when reading rom-comms. But, I will say that, this book did fall a little short on the flow, pacing and overall excitement.
I loved Finn, he was pure male fan-service. He did have some moments I wasn't fond off, but that just made him all the more real and enjoyable. A billionaire nerd, my dream come true. He really stole the show for me, and was my fav character in the whole book. As for Aspen, for a girl with an MBA, at times I wonder how she got through grad school. And the way she made fun of Finn's job, that didn't sit well with me at all. Shallow thinking and just plain old mean. I also didn't like how she didn't connected the dots about Finn, it was right there, and I caught on in seconds. Just to put this in perspective, it was her narrative that I connected the dots through, as in, through her eyes, her voice. I just feel like Aspen as dumped down, and there was no need for it; I think she was a missed opportunity. The overall story was a little slow for my liking, and there was a lot of lulls between "action". The book wasn't that much of a rush, but I did still very much like the overall concept and plot.
Overall this story had all the makings of a laugh out loud rom-comm, but just missed the mark. I did however enjoyed the overall story, there's some pretty solid moments, and like I said, Finn is an amazing character and I loved reading about him. Aspen's best friend is also a very solid character and really brought out a good side to Aspen that would have been otherwise missed, and actually made me like her.
So though I have mixed feelings about this book, there are some good things going on, and Finn's and Aspen growing relationship was believable and at times fun. So please take my recommendation and my stamp of approval that even though I wasn't fully on board, reading is subjective and you might fall head over heels for this feisty read.
Happy Reading
-Review by @eawalsh
https://itsybitsybookbits.com/wp-content/uploads/2020/07/IBBB_2020_logo_sq.png
0
0
Emily-Ann Walsh
https://itsybitsybookbits.com/wp-content/uploads/2020/07/IBBB_2020_logo_sq.png
Emily-Ann Walsh
2019-02-15 19:59:00
2019-02-15 20:06:39
Rush (The Boys of RDA #1) by Megan Matthews – Review by Emily Walsh