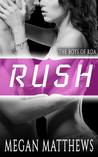 Rush by Megan Matthews
My rating: 4 of 5 stars
Rush begins with me being drawn in immediately. Aspen literally falls at Finn's feet. Gosh, even their names are hawt!! The story has that zing, already promising to dazzle the reader.
Aspen sells dog food and Finn designs video games. They meet at the apartment complex where they both live. Aspen hasn't been in San Francisco long, so Finn shows her around a bit. They are getting to know one another, with both of them really liking what they see, so far. Their patience wears thin when their hunger for each other increases. Aspen cannot resist the allure of Finn.
Emotions are high, the wrong conclusions are reached. Aspen feels Finn judged her unfairly and incorrectly, and she let him know that, in no uncertain terms. Finn would give anything for another shot, and even though a tiny little voice tells her to turn away and not look back, she is unable to ignore the heat between them, and is just too attracted to Finn to let him go without a fight.
Finn seems like your typical gamer dude, but holy man, it is a totally different story in the bedroom. He knows what he wants and he knows how to please a woman. He is certainly no alpha male, but he is definately not a spineless wimp, either. He seems to be pretty much everything Aspen wants in a man. She yearns for the chance to spend time with Finn, when he is not jumping to conclusions,that is.
Finn has things that he has been hiding, and when Aspen finds out, she is hurt that she was the last to know. Aspen has never hidden anything from Finn, preferring the honest approach, to the one of omitting information from the person they are trying to build something with. The dynamic between them is a complex one. I always got the feeling that Finn was never totally comfortable with Aspen. Maybe because of all the things he keeps close to his chest was taking it's toll. It was difficult to get a handle on Finn, whereas Aspen was like an open book. While I love a good mystery, and the challenge of finding out how someone ticks, it is refreshing to read about a character that you know, straight up, how they work, taking the guesswork out and allowing you just to immerse yourself into their fantasy and dream away.
Rush is Book #1 in the Boys of RDA series, and my first time reading this author's work. The book was highly enjoyable, with a free flowing storyline, as well as characters that provided a great escape into their world. Although parts were sometimes predictable, the book was still
captivating and difficult to put down. A thrill to read and I am looking forward to LAg, Book #2 in the Boys of RDA series.
https://itsybitsybookbits.com/wp-content/uploads/2020/07/IBBB_2020_logo_sq.png
0
0
Tracy Wilkin
https://itsybitsybookbits.com/wp-content/uploads/2020/07/IBBB_2020_logo_sq.png
Tracy Wilkin
2019-02-10 02:40:49
2019-02-10 07:11:29
Rush (The Boys of RDA Book 1) by Megan Matthews – Review by Tracy Wilkin