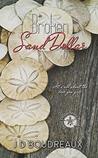 Broken Sand Dollar by J.D. Boudreaux
My rating: 5 of 5 stars
Broken Sand Dollar by JD Boudreaux is the third book in the Sand Dollar series. I have enjoyed follow Alex on his journey over the years. Of the three books this is my favorite, the changes in Alex are so amazing and he finally finds his happiness.
I saw some of myself in Alex, he was always taking care of everyone else instead of focusing on himself periodically and this is something I have found myself being guilty of. His reason comes from his childhood as does mine but I like his a lot more.
Alex isn't the only one who has gone through changes. Actually pretty much everyone changes in some way. Some are bigger than others.
This was a great series and I hope to see more this Author in the future.
https://itsybitsybookbits.com/wp-content/uploads/2020/07/IBBB_2020_logo_sq.png
0
0
Robin Rankin
https://itsybitsybookbits.com/wp-content/uploads/2020/07/IBBB_2020_logo_sq.png
Robin Rankin
2019-03-03 21:53:06
2019-03-03 22:47:22
Broken Sand Dollar (The Sand Dollar Series Book 3) by J.D. Boudreaux – Review by Robin Rankin