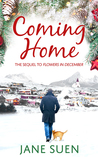 COMING HOME by Jane Suen
My rating: 5 of 5 stars
A great read about moving on. Connor Norton returns to his home town after grieving for the death of his mother. Whilst there, he bumps into Mary Ann, hoping to resume their friendship from the previous novel. But too much time has passed and she is moving on with her life. Can he move on with his life too?
A great read. Well developed plot. Well developed characters like Connor dealing with his grief but still kind underneath or Mary Ann doing what she loves but standing up for herself. Great cast of supporting characters like the supportive Norma or the old friend Alana. I loved the sweet bubbly nature of Ron and his enthusiasm for nature was a lovely touch. Connor's grief was beautifully written, as he remembers Christmases with her in sweet reminiscences that hit him from nowhere, emotive and sad and sweet.
I loved the visual detail throughout the novel like with the Christmas feel of the town with its string lights and trees full of life and people. Or the sense of the small town with its little shops and streets where everyone knows each other and where things are the same even after years away which was perfectly written. Or the little coffee shop with its colourful decorations of red and green and ivy and holly bright and jolly in vivid colours, beautifully written.
I also liked the use of dates in the chapter titles, which was a great addition to fuel the Christmas feel of the novel and time passing and also helping with the backstory of Alana for the flashbacks to work well with the narrative of the present. Overall, a wonderful read and I would give it five stars.
https://itsybitsybookbits.com/wp-content/uploads/2020/07/IBBB_2020_logo_sq.png
0
0
Sarah Oakes
https://itsybitsybookbits.com/wp-content/uploads/2020/07/IBBB_2020_logo_sq.png
Sarah Oakes
2019-03-04 16:36:13
2019-03-04 16:40:15
Coming Home: The Sequel to Flowers in December by Jane Suen – Review by Sarah Oakes