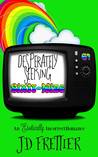 Desperately Seeking Sixty-Nine by J.D. Frettier
My rating: 4 of 5 stars
I loved the concept of this book: The fact that there was a green room where you could meet up with loved ones in the afterlife and rekindle your love. It was a perky, positive book with a different outlook to the traditional Heaven/ Hell ideas that we are sold. I liked the main character of Bonnie and her sidekick Dee. I also liked the fact that her husband Peter was able to feel her presence while he was alive and she was in the green room and that they would be able to meet up later to relive the early days of their love. The love scenes were hot but tasteful and plentiful.
It was a short book but the good news is there are more to come from this author. I will soon be delving into the next book…once I've brought my temperature back down!
https://itsybitsybookbits.com/wp-content/uploads/2020/07/IBBB_2020_logo_sq.png
0
0
Natalie Hanley
https://itsybitsybookbits.com/wp-content/uploads/2020/07/IBBB_2020_logo_sq.png
Natalie Hanley
2019-03-17 11:28:38
2019-03-17 11:51:15
Desperately Seeking Sixty-Nine: A Spicy Romantic Comedy About the Afterlife (The Green Room Chronicles Book 1) by J.D. Frettier – Review by Natalie Hanley