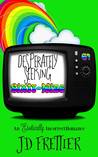 Desperately Seeking Sixty-Nine by J.D. Frettier
My rating: 5 of 5 stars
Desperately Seeking Sixty-Nine: A Spicy Romantic Comedy About the Afterlife (The Green Room Chronicles Book 1) by J.D. Frettier is a five star novel. This novel was completely unexpected and wonderful. The author takes us on a wonderful journey of what the afterlife could be like when Bonnie passes away on her birthday. In this afterlife, she realizes she can have pretty much anything she wants, including surgeries that don't hurt making her body look back the way it did when she was younger. She spends the novel trying to find a way to connect again with her husband. I definitely recommend reading this book because of its great portrayal of the afterlife and it is a quick read!
Review by @julie-lounello
View all my reviews
https://itsybitsybookbits.com/wp-content/uploads/2020/05/group-blue-01-April-2020-300x177.png
0
0
Julie Lounello
https://itsybitsybookbits.com/wp-content/uploads/2020/05/group-blue-01-April-2020-300x177.png
Julie Lounello
2019-03-17 22:19:43
2019-03-17 23:35:32
Desperately Seeking Sixty-Nine: A Spicy Romantic Comedy About the Afterlife (The Green Room Chronicles Book 1) by J.D. Frettier – Review by Julie Lounello