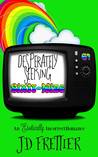 Desperately Seeking Sixty-Nine by J.D. Frettier
My rating: 5 of 5 stars
Desperately Seeking Sixty-Nine: A Spicy Romantic Comedy About the Afterlife, is the first book in the Green Room Chronicles. It is also the first book I have read by this authors, J.D. Frettier. At first, I was really worried about the book, thinking it would be super kinky, due to the title. (Side note,it wasn't the 69 I was thinking it meant!) I don't mind a little spice, and this had the right amount. But most important, it was hilarious! This book made me laugh so much, and it was a super easy, quick read. The plot is funny, and the things that go on in the afterlife are very creative. I love the way it was written, and have already moved on to the 2nd book in the series. I highly recommend this book to anyone that needs a good entertaining story, that will make you laugh!
https://itsybitsybookbits.com/wp-content/uploads/2020/07/IBBB_2020_logo_sq.png
0
0
Elizabeth Sanchez
https://itsybitsybookbits.com/wp-content/uploads/2020/07/IBBB_2020_logo_sq.png
Elizabeth Sanchez
2019-03-17 21:19:20
2019-03-17 23:28:02
Desperately Seeking Sixty-Nine: A Spicy Romantic Comedy About the Afterlife (The Green Room Chronicles Book 1) by J.D. Frettier – Review by Elizabeth Sanchez