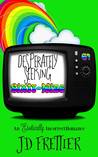 Desperately Seeking Sixty-Nine by J.D. Frettier
My rating: 4 of 5 stars
Desperately Seeking Sixty-Nine: A Spicy Romantic Comedy About the Afterlife by J.D. Frettier is the first book in The Green Room series. I was not sure what to expect with this book when I saw the cover and title but was pleasantly surprised. This is a short, fun, and humorous read. Bonnie has passed away and is greeted by her friend, Dee, to the Green Room. She teaches her the ropes and this allows Bonnie all sorts of abilities. I really enjoyed the interactions between Bonnie and her husband. I really wanted them to find each other again.
The characters are fun and written well. The story is short but it works and doesn't over do the story by dragging it out. It was written with an open ending to allow for continuation of the story. I look forward to more from JD Frettier in the future.
Review by @sherimichelle1
https://itsybitsybookbits.com/wp-content/uploads/2020/07/IBBB_2020_logo_sq.png
0
0
Sheri Schrader
https://itsybitsybookbits.com/wp-content/uploads/2020/07/IBBB_2020_logo_sq.png
Sheri Schrader
2019-03-12 13:54:38
2019-03-12 16:17:02
Desperately Seeking Sixty-Nine: A Spicy Romantic Comedy About the Afterlife (The Green Room Chronicles Book 1) by J.D. Frettier – Review by Sheri Schrader