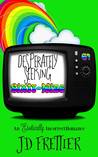 Desperately Seeking Sixty-Nine by J.D. Frettier
My rating: 5 of 5 stars
Desperately Seeking Sixty Nine: A Spicy Romantic Comedy about the Afterlife ( The Green Room Chronicles Book 1) by J D Frettier. This is the best book. I laughed, I cried and I couldn't put it down. Its the story of 1969, Woodstock where Bonnie & Peter meet and begin their life long quest for love. They think "What happens at Woodstock, Stays at Woodstock" not so much! 47 years later Bonnie dies unexpectedly after a passionate night & whisked to Purgatory. She meets her best friend Dee at the Green Pearly Gates and her quest to reconnect with her soul mate begins. 69 is brought up several times in the book and it has special meaning to it. This is such a fun book and I loved every minute of it. I don't want to say much more as not to spoil it for you all. Its the best story and I can't wait to read the next one.
https://itsybitsybookbits.com/wp-content/uploads/2019/09/IBBB_promotions_logo-01-300x180.png
0
0
Tausha Treadway
https://itsybitsybookbits.com/wp-content/uploads/2019/09/IBBB_promotions_logo-01-300x180.png
Tausha Treadway
2019-03-17 16:56:20
2019-03-17 18:35:50
Desperately Seeking Sixty Nine: A Spicy Romantic Comedy About the Afterlife (The Green Room Chronicles Book 1) By J.D. Frettier - Review by Tausha Treadway