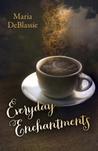 Everyday Enchantments by Maria F. DeBlassie
My rating: 4 of 5 stars
I chose to read this book because I thought the title was intriguing. Everyone is looking for an everyday enchantment, some ordinary magic in the normality of daily life. I wasn't sure if it was going to be a fantastical story or memoirs of a modern woman, it turned out to be a bit of both in my opinion.
Through a series of essays, Maria DeBlassie invites us to look at the everyday with new eyes, I guess you could say this is similar to the mindfulness trend that is so popular, or perhaps it's one step further. I had never tried meditation, but I do suffer with anxiety so thought this book might be an easy way to try it out. I was not disappointed. Although it took me a good chapter to get used to the style of writing, the subject kept me turning the pages. I also found myself wanting to go back and reread certain sections. It will not be a one off read for me, hopefully it is the start of a journey.
https://itsybitsybookbits.com/wp-content/uploads/2020/05/group-blue-01-April-2020-300x177.png
0
0
Natalie Hanley
https://itsybitsybookbits.com/wp-content/uploads/2020/05/group-blue-01-April-2020-300x177.png
Natalie Hanley
2019-03-31 10:17:19
2019-04-01 00:43:43
Everyday Enchantments: Musings on Ordinary Magic & Daily Conjuring Maria DeBlassie – review by Natalie Hanley