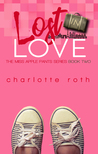 Lost in Love: Miss Apple Pants by Charlotte Roth
My rating: 4 of 5 stars
So Adorable!  Lost In Love is the second book in The Miss Apple Pants Series by Charlotte Roth. In this book we follow Ella through a series of events of love and life. This book starts a few years after the first one. Ella has learned to grow up fast and since the first book she has grown even more and it was a pleasure to read. Her father decides to take a trip to Europe and Ella doesn't know what she needs to do. Following your heart is not an easy task and it's especially hard for Ella. Who does she need to go after? Her former love or risk something with a new one? Her heart is completely on the line and she doesn't want to be heartbroken again. This book is super cute and light hearted it's also so incredibly relatable in the sense that all women go through the ups and downs of love and life. I would recommend this book to someone who enjoys relating and learning from others. I really enjoyed this book and hope to read another one.
Review by@vegasdaisie
https://itsybitsybookbits.com/wp-content/uploads/2020/07/IBBB_2020_logo_sq.png
0
0
Melissa Agena
https://itsybitsybookbits.com/wp-content/uploads/2020/07/IBBB_2020_logo_sq.png
Melissa Agena
2019-03-10 23:08:22
2019-03-11 08:41:47
LOST IN LOVE (THE MISS APPLE PANTS SERIES, BOOK 2) BY CHARLOTTE ROTH – REVIEW BY MELISSA AGENA