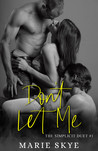 Don't Let Me by Marie Skye
My rating: 5 of 5 stars
Don't Let Me is the first book in the Simplicit Duet by Marie Skye. I fell in love with Ms. Skye's work while reading the Incapable Series, where her books branded themselves on my soul, and have read every new release since then. I had been anticipating this book for a while now, so I was really excited to finally have it in my hands. I had no doubt that this book would be every bit as good as Ms. Skye's previous ones, if not better- so I couldn't wait to dive in. I am happy to report that this story is all that I could have hoped for, and more…… it's delicious- completely addictive and different from her other books. It's quite intense and emotive, as we have come to expect from Ms. Skye- but is one of those books you come across from time to time where you get so caught up in the story that when the end comes you flick over the page hoping to keep reading, wanting desperately for the story to continue, all the while thinking "what, wait- what the hell did I just read?" Well, this is one of 'those' books! I need that second book Stat! That ending- OMG!!!
Do yourself a favour and grab a copy, you won't regret it! Highly recommended reading! Bring on Book #2!!!!!
Brilliant!
Thank-you Ms. Skye!
Reviewed by @angelahayes
https://itsybitsybookbits.com/wp-content/uploads/2020/07/IBBB_2020_logo_sq.png
0
0
Angela Hayes
https://itsybitsybookbits.com/wp-content/uploads/2020/07/IBBB_2020_logo_sq.png
Angela Hayes
2019-04-07 07:40:16
2019-04-07 10:00:41
Don't Let Me (Simplicit Duet Book #1) by Marie Skye – Review by Angela Hayes