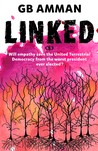 Linked by Gaia B. Amman
My rating: 5 of 5 stars
Amman continues to leave me breathless with her wide array of books and characters. I cannot even begin to explain how much I enjoyed this book. And truthfully I don't even know how to put into words how much I enjoyed this book. Amman has an innate ability to engulf the reader into her imagination and develop a new world with complex characters and themes that challenge you to consider lines between good and evil, right and wrong, black and white. I truthfully wasn't sure what to expect when I picked this book up. But truthfully it is best with a book like this to pick it up with a blank slate. Thank you Ms. Amman for sharing this amazing treasure with your readers. It is extremely well written and just a delight to enjoy.
Reviewed by @heatherlovelace
View all my reviews
https://itsybitsybookbits.com/wp-content/uploads/2020/07/IBBB_2020_logo_sq.png
0
0
Heather Lovelace
https://itsybitsybookbits.com/wp-content/uploads/2020/07/IBBB_2020_logo_sq.png
Heather Lovelace
2019-04-05 13:16:40
2019-04-05 13:16:40
Linked: Can Empathy Save the United Terrestrial Democracy? by Gaia B. Amman – Review by Heather Lovelace