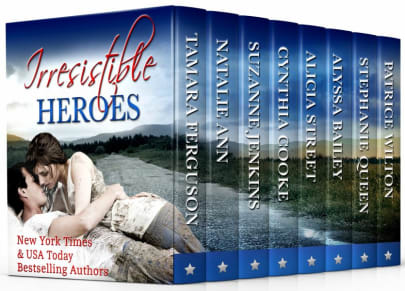 IRRESISTIBLE HEROES
By: Tamara Ferguson
My Rating: 5 of 5 stars
Irresistible Heroes Anthology was packed full of fun, emotional, feels invoking read, that kept me moving from one engaging story to the next.
I love anthologies, there is always a story for everyone, and you get to discover new authors. This one was no different, and I now have a few new authors to stalk… I mean follow.. yeah follow..
Anyways, as I was saying, this anthology was all that and more. I flew through this, and I was a little sad when it ended. The stories in these wonder don't follow one another, so you don't need to read them in order, you can flip back and forth, do whatever you want.
I will say that I did very much enjoy Fire Me Up by Alicia Street, it was that type of romance, it was sweet witty and just… so many feels. I also liked Two Hearts Unlikely Heroes by Tamara Ferguson, which I will say is an author I know and have read books by. It was part of the reason I chose this anthology. Again, this story was pulling, sparked the feels and the MC's were just a joy to read about. I have so many feels right now, that my brain is all mushy.
So I'm going to stop rambling and just leave you with my super high recommendation and my golden stamp of approval.
Happy Reading
-Review by @eawalsh
https://itsybitsybookbits.com/wp-content/uploads/2020/07/IBBB_2020_logo_sq.png
0
0
Emily-Ann Walsh
https://itsybitsybookbits.com/wp-content/uploads/2020/07/IBBB_2020_logo_sq.png
Emily-Ann Walsh
2019-07-11 20:40:29
2019-07-11 22:25:24
Irresistible Heroes – Heroes of Your Heart by Various Authors – Review by Emily Walsh