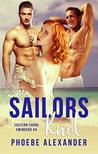 Sailors Knot by Phoebe Alexander
My rating: 5 of 5 stars
Sailors Knot by Phoebe Alexander is part of the Eastern Shore Swingers Series. This book is in my opinion the hottest and steamiest so far. We see many of the same characters in this book that we have met earlier in the series but there's a few more we haven't met yet too.
I thought this book was well written and let the reader really feel some of what Casey went through in her life. She definitely had her share of emotional heartbreak in life. The author let us into Casey's past with Joshua and Gabriel. Some people think family gets involved and has opinions when your young but Casey was in her 30's and her family still was front and center in her life causing drama.
Now here we are 3 decades later with Casey thinking back to when she was 30. She has a lot of time on her hands laying in a bed fighting a sickness. Her friends and her sister and there for her every step of the way.
Sailors Knot was a great addition to the series
review by @xchellex
https://itsybitsybookbits.com/wp-content/uploads/2020/07/IBBB_2020_logo_sq.png
0
0
Michelle Mulvey
https://itsybitsybookbits.com/wp-content/uploads/2020/07/IBBB_2020_logo_sq.png
Michelle Mulvey
2018-11-19 09:11:50
2018-11-20 08:24:18
Sailors Knot (Eastern Shore Swingers Series Book 4) by Phoebe Alexander – Review by Michelle Mulvey