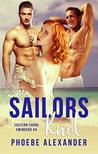 Sailors Knot by Phoebe Alexander
My rating: 4 of 5 stars
This is such a good story about love lost and about not taking life and loved ones for granted. This story is also one that requires openminded-ness which readers can always expect from Alexander. Sailors Knot is a well written, exciting, heart-felt story with the possibility of more. More love, more sex, more twists.
"That's really the beauty of being open-minded, though—allowing others to pick up the sack so one partner doesn't end up feeling rejected and unwanted."
This story pulls you into the world of Casey Fontaine and her love for Gabriel and Joshua. This story also gives us a real look into the world of cancer and recovery. Other characters include her sister Connie, Paisley and Leah. These ladies also have their own issues with life and love. Each character learns from Casey about her relationship with the hope of bettering their own. I hope that Connie gets a story of her own, maybe finding that brother Casey promised her! I loved catching up with Paisley and Leah as well, as they are from the first two books in this series.
I recommend this story and the rest of the series as well as other books by Alexander. Each story is a stand alone but reading them in order is helpful. Alexander has written another story worth reading.
https://itsybitsybookbits.com/wp-content/uploads/2020/07/IBBB_2020_logo_sq.png
0
0
Shannon Fowler
https://itsybitsybookbits.com/wp-content/uploads/2020/07/IBBB_2020_logo_sq.png
Shannon Fowler
2018-11-03 04:45:05
2018-11-03 16:55:19
Sailors Knot (The East Shore Swingers Book 4) by Phoebe Alexander – Review by Shannon Fowler