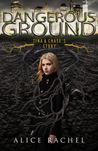 Dangerous Ground: Tina and Chase's Story by Alice Rachel
My rating: 5 of 5 stars
Dangerous ground was a thrilling and emotional rollercoaster of a 5 star read. This is Tina and Chase's story and I loved it. Once I started I didn't want to stop.
When the sterilization law goes in effect things start to take a twist.
Chase and his family is what society deems as low class. There were some scenes that just broke my heart for Chase. Who are these people that think they can make these kind of choices for people no matter what class they are?
Tina witnesses some things that happen to Chase and is determined to make changes.
There is so much going on in this read, your head will be spinning. There is quite a bit of darkness also.
Alice Rachel does a great job with her writing you feel everything the characters do. My emotions were all over the place with the laws and regulations. I have to admit that some things were difficult for me to read because of some of the issues. Beware that there may be some scenes that can cause triggers for some. All of the secondary characters added a great element to the story. I had some I didn't care for and others I loved.The ending has left me wanting more. You will be done before you know it. If you're looking for a great series, I suggest 1-clicking and get reading.
Reviewed by @mab54615
View all my reviews
https://itsybitsybookbits.com/wp-content/uploads/2020/07/IBBB_2020_logo_sq.png
0
0
Michelle Austin
https://itsybitsybookbits.com/wp-content/uploads/2020/07/IBBB_2020_logo_sq.png
Michelle Austin
2018-11-29 09:50:25
2018-11-29 21:56:07
Dangerous Ground: Tina and Chase's Story by Alice Rachel – Review by Michelle Austin