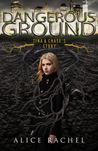 Dangerous Ground: Tina and Chase's Story by Alice Rachel
My rating: 5 of 5 stars
DANGEROUS GROUND: Tina and Chase's Story (Under Ground Book 5) by Alice Rachel. It truly doesn't matter how many of these stories I read they just keep getting better and better and this one was definitely no different. From page one we are taken on a journey that comes alive before your eyes. The author knows how to write characters you really connect to and you can't help but be drawn into their story. It's well written and paced nicely never feeling rushed or lacking anything. Please do yourself a favor and read these in order it not only keeps everything clear it raises the enjoyment of the series. Tina and Chase's story might be my favorite and you definitely don't want to miss out on it. I'm giving this book a five star review and highly recommend it to everyone.
https://itsybitsybookbits.com/wp-content/uploads/2020/07/IBBB_2020_logo_sq.png
0
0
Katie Kearney
https://itsybitsybookbits.com/wp-content/uploads/2020/07/IBBB_2020_logo_sq.png
Katie Kearney
2018-11-03 23:31:52
2018-11-04 01:03:34
DANGEROUS GROUND: Tina and Chase's Story (Under Ground Book 5) by Alice Rachel- Review by Katie Kearney