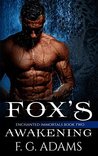 Fox's Awakening by F.G. Adams
My rating: 4 of 5 stars
Fox's Awakening is the second book in the Enchanted Immortals series by F.G. Adams and is a paranormal romance it can be read as a standalone but I recommend reading Aldin's Wish first to give you a better understanding of the story. This book is also full of paranormal creatures and continues where the first book left off and is just as fast paced.
Brenton is an FBI agent but also a Hunter, yet he is also much more, much more than he will ever know. Years earlier he was saved by someone he now calls family and friend. It is with that same friend that he now finds himself in the middle of something he does not fully understand. There is change coming, something within, is he crazy or could there be more?
Finally two become one and two become one once again. This has been foretold. Will it be enough to save the one your love, your beloved?
This book is action packed and full of the unknown. This is just as good a read as the first, I can not wait to read the next in the series.
Reviewed by @jennadb
https://itsybitsybookbits.com/wp-content/uploads/2020/05/group-blue-01-April-2020-300x177.png
0
0
Jenni Bishop
https://itsybitsybookbits.com/wp-content/uploads/2020/05/group-blue-01-April-2020-300x177.png
Jenni Bishop
2017-10-28 11:59:02
2018-12-16 12:00:29
Fox's Awakening (Enchanted Immortals #2) by F.G. Adams – Review by Jenni Bishop