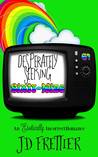 Desperately Seeking Sixty-Nine by J.D. Frettier
My rating: 5 of 5 stars
I know what you are thinking this book is about… that cover and title really draws your attention right away. I had never read anything from JD Frettier before so I had no idea what to expect. JD Frettier, you are a clever mind! I adored this fast read. At just under fifty pages we get a big story in a small package that makes you feel the gambit of emotions.
In Desperately Seeking Sixty-Nine you have the story of Bonnie McMillan. In the summer of 1969 Bonne and her husband meet at the infamous Woodstock. A life of hippie style love and sex, is what they have lived for a wonderful forty-seven years. All of that is changed and ripped away in one night of raunchy fun together. Bonnie finds herself in what they call 'the green room'. She embarks on a mission to reinvent herself and find a way back to 'sixty-nine'. What a journey it is too! I can't wait to see what will come next in the second book in the series.
Review by @lizaileen
View all my reviews
https://itsybitsybookbits.com/wp-content/uploads/2020/07/IBBB_2020_logo_sq.png
0
0
Liz Vrchota
https://itsybitsybookbits.com/wp-content/uploads/2020/07/IBBB_2020_logo_sq.png
Liz Vrchota
2018-08-29 08:18:41
2018-11-08 08:23:22
Desperately Seeking Sixty-Nine (The Green Room Chronicles #1) – Review by Liz Vrchota