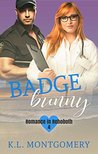 Badge Bunny by K.L. Montgomery
My rating: 5 of 5 stars
Badge Bunny is the fourth book in K.L. Montgomery's Romance in Rehoboth series. As it can be read as a standalone then this is what I did – I was intrigued by the title and the synopsis and thought, hi, let's see what spin the writer will take us on! And of course, she did not disappoint! I absolutely love stories with strong and independent heroines that are not waiting around to be saved! Add to this a bit of humour and comedy and what else does one need – you have a top notch Rom Com/Enemies to Lovers story!
Badge Bunny is the story of the ER doctor Brynne Miller aka the 'Badge Bunny' and Chris Everson who is a state trooper and who managed to piss off Brynne within 2 seconds of meeting her! So how do you get over that first impression that is compounded with follow up meetings where Chris manages to annoy the heck out of Brynne? Well, you put them together in major crisis that simply demands that they need to work together to handle it!
I think I need to pick up the first three books of the series as I absolutely fell in love with that tears and laughter combination and real life size and believable characters!
https://itsybitsybookbits.com/wp-content/uploads/2020/07/IBBB_2020_logo_sq.png
0
0
Jana Teppih
https://itsybitsybookbits.com/wp-content/uploads/2020/07/IBBB_2020_logo_sq.png
Jana Teppih
2018-09-05 20:35:07
2018-10-26 19:25:25
Badge Bunny (Romance in Rehoboth Book 4) by K.L. Montgomery – Review by Jana Teppih