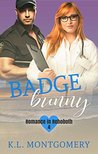 Badge Bunny by K.L. Montgomery
My rating: 5 of 5 stars
My favorite so far! Badge Bunny is the fourth book in the Romance in Rehoboth series by KL Montgomery. You can read this book as a standalone. You don't need to read the first three to enjoy this book! However, the characters in the other books are featured in this story. In this story we meet up with Dr. Brynne Miller and Corporal Chris Evanston. Brynne is a doctor in the emergency room and Chris is a state trooper that becomes enamored with Brynne while bringing a victim in to the E.R. At this point, Brynne has sworn off ALL cops! Her co-workers have deemed her "Badge Bunny." But this story is all about understanding that not everyone is as they seem. Turns out that Brynne isn't as tough as she comes off as and Chris isn't the womanizer that Brynne thinks he is. Although Chris is harboring a secret he is determined to show Brynne that he really is just a nice guy. Happenstance has them paired up at a wedding and from there is when they learn more about each other and just how much they are great together. Their banter is great and their connection is sizziling. I love the interaction between them and the other characters from the other books. I loved finding out Chris's secret because it's definitely not what you think. This book also covers bi-racial marriage and adoptions. This author really knows how to capture the reader and she also knows how to keep them interested. I honestly couldn't put this down. I would definitely recommend this book!
Reviewed by @vegasdaisie
https://itsybitsybookbits.com/wp-content/uploads/2020/05/group-blue-01-April-2020-300x177.png
0
0
Melissa Agena
https://itsybitsybookbits.com/wp-content/uploads/2020/05/group-blue-01-April-2020-300x177.png
Melissa Agena
2018-09-02 23:00:39
2018-10-02 14:53:38
Badge Bunny (Romance in Rehoboth Book 4) By K.L. Montgomery – Review by Melissa Agena