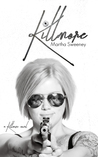 Killmore by Martha Sweeney
My rating: 5 of 5 stars
Killmore by Martha Sweeney is a fast paced and intriguing book. It will sink it's claws into you on page one and will leave you on the edge of your seat waiting for book 2.
This author is a new author to me and I was blown away by how well she creates such an interesting and intense story. The writing helps paint a clear picture of what is happening and be characters, it is easy to imagine everything that is happening.
The more I read of this book the more I wanted to read, the more I couldn't wait to find out what was going to happen. This is a brilliant book and one I thoroughly enjoyed. I cannot wait to dive into book two.
https://itsybitsybookbits.com/wp-content/uploads/2020/05/group-blue-01-April-2020-300x177.png
0
0
Kerry Baker
https://itsybitsybookbits.com/wp-content/uploads/2020/05/group-blue-01-April-2020-300x177.png
Kerry Baker
2018-10-31 14:01:21
2018-10-31 14:01:21
Killmore by Martha Sweeney – Review by Kerry Baker