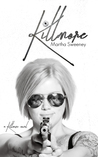 Killmore by Martha Sweeney
My rating: 5 of 5 stars
Killmore (Killmore #1)
By Martha Sweeney
Rated 5 stars
Holy Smokes! Talk about starting off with a bang! Wowzer! Laurie is sarcastic, tough and has a take no prisoners attitude. She is angry hurt and unable to move forward from what happened in her past. Plus the trust issues??? I don't blame her for being slow to trust anyone. Now with that being said I LOVE how strong she is!!! She kicks a$$ and doesn't apologize. She has built herself up to be someone no one wants to mess with. Love her!
The overall theme of half the story was the male lead teasing, cajoling and doing everything possible to get in the female leads pants and she was always pushing him away. I felt a little of that was fine but it seemed a bit over the top. Almost like her last relationship. Anyway we are in deep with their relationship as the story moves forward with the reason he was there to begin with. About 3/4 of the book had gone by before action picks back up. Then there is a bit of suspense and action, action and more.
This is an impressive book and I enjoy Martha Sweeney's writing. The characters are wonderful and I look forward to see what happens next.
Review by @lisahelmick
View all my reviews
https://itsybitsybookbits.com/wp-content/uploads/2020/07/IBBB_2020_logo_sq.png
0
0
Lisa Helmick
https://itsybitsybookbits.com/wp-content/uploads/2020/07/IBBB_2020_logo_sq.png
Lisa Helmick
2018-10-31 14:03:07
2018-10-31 17:48:55
Killmore by Martha Sweeney – Review by Lisa Helmick