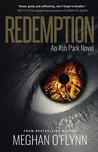 Redemption
By: Meghan O'Flynn
My Rating: 5 of 5 stars
Redemption (Ash Park #5) by Meghan O'Flynn was a heart pounding, feels invoking, raw psychological thriller that not only hooked me like the other books, but it brought me back to the first book, to that unsolved case, that's ends with a shocking conclusion.
Coming off the emotional punch to the face from the last book, this book picks up pretty close to when books four ends. I will say before I continue, though these books can be read as standalones, they are following a connecting plot line, and time line. So I highly suggest reading the other books in this series. Especially the first book, as this one directly connects to it. You won't get the full emotional boot kick, if you skip it. Plus, all the books in this series are freaking amazing!
I don't even know how to review this book, it wasn't what I was expecting, and frankly this is probably one of the best books I have read this year. But, let me be clear, to get the full effect, you got to read the other books. You got to see the darkness that's been smothering Petrosky. His downward spiral, his ghosts, his willingness to just end it all. All of that, from those books, everything leads up to this one. This book will shock you, wreck you and, you will not see the ending coming. I was second guessing everything, and it was, wow.. just wow.
I really hope this isn't the end of the series, I feel like there needs to be one more, just one more to close it out fully. But if this is the last book, then I have to say, that Meghan O'Flynn has done this series justice and ended it just as strong as it was started. Every book was strong, and that consistency of high level writing is what separates this series, this book, from others like it.
In saying that, please, please, take my super high recommendation and my stamp of approval that this book is not only a must read, it's a classic in the making. It will break your emotions, have you struggling to keep it together, and you will shed some tears. This book, this series, is on a whole other level, and is worth every bit of praise it has received.
Happy Reading
Review by @eawalsh
https://itsybitsybookbits.com/wp-content/uploads/2020/05/group-blue-01-April-2020-300x177.png
0
0
Emily-Ann Walsh
https://itsybitsybookbits.com/wp-content/uploads/2020/05/group-blue-01-April-2020-300x177.png
Emily-Ann Walsh
2018-10-31 20:29:01
2018-10-31 21:32:11
Redemption (Ash Park #5) by Meghan O'Flynn – Review by Emily Walsh