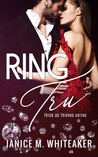 Ring Tru by Janice M. Whiteaker
My rating: 5 of 5 stars
Ring Tru is the first book in the Thick As Thieves Series by Janice M. Whiteaker. What a great way to start off a new series! I was hooked right from the first chapter. This is a brilliant second chances romance, with mystery, suspense, danger, intrigue, steam, tension, love, loss, heartache, hate, jewel thieves, friendships, plots, plans, and more.
Gertrude (Tru) has been in her line of business now for 15 years and is ready for a fresh start. But to make that happen, she needs to do one last job, so she can start over. She's got just the right heist to set her up for the next stage of her life and she has put a lot of effort into setting things up and hopes she'll soon see the fruits of her labour. Then he walks back into her life, and things get complicated.
Will and Tru have a history, and yes, he had hurt her, badly. But he thought he was doing what was best for her at the time. That was 5 years ago…. and now, she hates him. He really wonders if he did the right thing when he walked away. They are obviously working the same score, but for two different reasons. If he can't find a way to get her to trust him and agree to work together, it may cost them a lot more than some jewels. But, there is definitely more to the situation than first meets the eye, and things soon take a dangerous turn. Will he risk everything to protect her? Was the pain he caused her too deep for her to get past? Will they realise that there is a fine line between love and hate, and they never really stopped loving each other – both suffering for the past 5 years? Will they leave with what they came for, or something far more valuable?
Highly recommended reading!!
Can't wait for book #2!
Thank you, Ms. Whiteaker!
Reviewed by @angelahayes
https://itsybitsybookbits.com/wp-content/uploads/2020/05/group-blue-01-April-2020-300x177.png
0
0
Angela Hayes
https://itsybitsybookbits.com/wp-content/uploads/2020/05/group-blue-01-April-2020-300x177.png
Angela Hayes
2018-10-22 18:48:24
2018-10-22 19:47:11
Ring Tru (Thick As Thieves Series Book #1) by Janice M. Whiteaker – Review by Angela Hayes