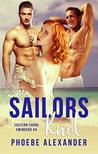 Sailors Knot by Phoebe Alexander
My rating: 5 of 5 stars
I absolutely adore this author! I am not a huge fan of books about swinging, there is nothing wrong with that lifestyle it is just my personal opinion but there is just something about the way in which this author writes about it that draws me in and I know that whenever she releases a book in this series I have to read it. Her writing is exciting, it flows well, the pace is always excellent and I know that I won't be able to put it down until I have finished. I think for me in this story there were some things that I wasn't really expecting and that's why I loved it so much. I love Casey; have done since the beginning and her story made me so emotional. I think that she is an amazing character, she's there for everybody and she has this inner strength that can only be admired. I honestly love everything about her. I love that it was told in past and present and we got to find out more about Casey and her lifestyle. As I expected there were some pretty steamy scenes but as always they are well written and not too over the top! I do find this lifestyle interesting and I really felt the connection between all of the characters in this book!
As always I look forward to more from Ms Alexander – I cannot recommend her books enough!
https://itsybitsybookbits.com/wp-content/uploads/2020/07/IBBB_2020_logo_sq.png
0
0
Katie Matthews
https://itsybitsybookbits.com/wp-content/uploads/2020/07/IBBB_2020_logo_sq.png
Katie Matthews
2018-10-29 14:26:24
2018-10-29 14:51:11
Sailors Knot (Eastern Shore Swingers Book 4) by Phoebe Alexander – Review by Katie Matthews