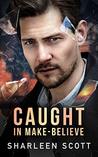 Caught in Make-Believe by Sharleen Scott
My rating: 4 of 5 stars
"This wasn't some make-believe game…. These people played for keeps."
Caught in Make-Believe is the third book in The Caught Series by Sharleen Scott. This is my first read from Ms. Scott, and even though this book could be read as a standalone, there were characters and references to past events, that I felt I should have known about. It didn't detract from this story, but it did pique my curiosity to read the other books and find out what happens in them, too. This is a romantic suspense, with mystery, suspense, second chances, some action, drama, and so much more. The story is quite intriguing, and I found myself throwing around various scenarios in my mind, trying to put all the pieces together and work out what was going on. The mystery and suspense were done really well done and kept the momentum of the story going.
Samantha Dylan is the manager at "Sweet Stuff" bakery, she is an outgoing, likeable, and optimistic person who hasn't had much luck in the relationship department, having just broken up with her cheating fiancé (ex). At 35 she feels her biological clock ticking and has begun to worry that she may never get her chance to experience motherhood, especially since she wasn't getting any younger. When a grumpy, prickly man enters the bakery for a cup of coffee and something to eat, little did she know just how much her world would be turned upside down.
Jace Colton is a writer, a former investigative reporter who has just made his way 'home' after 5 long years travelling. He is haunted by a tragedy that forced him to flee- he had delved too deeply into a story and got too close to some very dangerous information which painted a target on his back. He's been living off the grid, always on the move, never staying anywhere for any length of time- with only his dog Martin for company. But now he's been drawn home- because he thinks he has what he needs to finally lay his past to rest, once and for all.
"He accelerated with timidity, not wanting to do this, but knowing he must. The past required a showdown. Pistols or swords at dawn."
The last thing he expected was to meet someone who made him feel 'alive' again for the first time in 5 years. But, with a target on his back, anyone who associated with him could also be in danger. What happens when the danger he's been running from finally catches up with him?
This was a very interesting story that is wonderfully detailed and descriptive. It's told from several points of view which gives the reader a real immersive reading experience. The tension, suspense and drama were crafted really well and kept me flipping the pages to keep up with what was happening and piecing the puzzle together.
I'm off to explore the other two books now!
Thank you, Ms. Scott!
Reviewed by @angelahayes
https://itsybitsybookbits.com/wp-content/uploads/2020/02/group-01-01-300x183.png
0
0
Angela Hayes
https://itsybitsybookbits.com/wp-content/uploads/2020/02/group-01-01-300x183.png
Angela Hayes
2018-11-07 12:44:08
2018-11-07 13:35:11
Caught in Make-Believe (The Caught Series Book #3) by Sharleen Scott - Review by Angela Hayes.