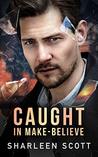 Caught in Make-Believe by Sharleen Scott
My rating: 4 of 5 stars
Caught in Make-Believe (The Caught Series Book 3) by​ Sharleen Scott is a suspense romance and the first book I have read by this author. The references to things in the past and characters lead me to believe that the books in this series should be read in order and I will be going back to read them. Having said that I really enjoyed and was fully engrossed in this mysterious and and suspense of the story of Sam and Jace. There is action and drama that will have you intrigued and hanging on every word and trying to put all the pieces of the puzzle that Sharleen had weaved so well. The story is told in several POV's which gives the story that much more richness.   Samantha's clock is ticking but she has yet to meet a man that can fill her expectations, that is until one closed off and secretive stranger enters her world.   Jace, has been in hiding and on the move after tragedy struck. Now he has come home and just when he thinks that maybe, just maybe he can open his heart again, he finds that not only himself but everyone he knows, is once again in danger of his past.   This is a page turner that should not to be missed.
Reviewed by @jennadb
https://itsybitsybookbits.com/wp-content/uploads/2018/09/41350827_531011120653197_5005389383935721472_n-1030x381.jpg
0
0
Jenni Bishop
https://itsybitsybookbits.com/wp-content/uploads/2018/09/41350827_531011120653197_5005389383935721472_n-1030x381.jpg
Jenni Bishop
2018-11-11 00:50:26
2018-11-11 06:30:58
Caught in Make-Believe (The Caught Series Book 3) by Sharleen Scott - Review by Jenni Bishop