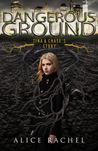 Dangerous Ground: Tina and Chase's Story by Alice Rachel
My rating: 5 of 5 stars
As the author advises in the blurb… This is not a stand-alone. Do not read this before reading the series in the suggested order. Seriously, don't do it. Even with the glossary at the beginning of the book it took me a few pages to settle in for the ride that is DANGEROUS GROUND.
What a ride this series is.
Holy moly, Dangerous Ground was a powerful story. I really had to sit with this story before writing this review because my emotions where a bit all over the place.
"Numbers clearly show that the lower class as a whole consumes fewer resources in year than the upper class in five months."
"… I believe the law should forbid them from tying the knot as well. Without children, there is no point in matrimony anyway."
Chilling words that are set in a fictional time and yet it appears not so fictional when set on the backdrop of November 2018 America.
There are many layers to this epic story. Reading this story as each character goes through changes and growth is breath taking and heart breaking and an emotional rollercoaster.
The characters and layers to the story are so written visually that I didn't want to put the story down because it is like a movie playing in my mind.
I'm truly not sure if I could sit here and say this is my favorite of the series but I will say that is was the most… It was the most… It just WAS. I really can't put in to words what it is about this story that just grabbed me, shook me up and put me back down. I feel like I left a teeny piece of me back on the pages. Perhaps I will get it back as the series concludes .
I would recommend it my niece when she is old enough to read the series as a whole.
Review by @mauraharper
https://itsybitsybookbits.com/wp-content/uploads/2020/07/IBBB_2020_logo_sq.png
0
0
Maura Harper
https://itsybitsybookbits.com/wp-content/uploads/2020/07/IBBB_2020_logo_sq.png
Maura Harper
2018-11-04 06:31:31
2018-11-04 08:13:48
DANGEROUS GROUND: Tina and Chase's Story (Under Ground Book 5) by Alice Rachel – Review by Maura Harper