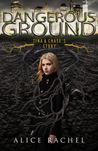 Dangerous Ground: Tina and Chase's Story by Alice Rachel
My rating: 5 of 5 stars
Dangerous Ground is part of the Under Ground series. It is the fifth book and should be read after books one through four. This book goes a little deeper into Tina and Chase's story. The way Alice Rachel writes reminds me of a music composer. She starts with an introduction which is the same for all the books so far. The read is slow and steady, and comforting because it is familiar to the series. The main body is an "allegro" or a brisk walk. Tina and Chase's story is like the allegro because Tina grew up in an affluent house. There was not a need for anything. Whereas Chase did not, he grew up in the poor community. When Tina and Chase get together they are going at the "allegro" pace. This means that the story is moving at a good pace and I could not wait to turn the page. All of the nitty gritty takes place here. This where the trigger points may happen: depression, suicidal thoughts, and alcoholism are talk about so if you are sensitive to these triggers you are aware that it is here where those take place. Then the "andante" or slow walking pace movement takes us to the end of the story. This is where the action slows down but still at a nice pace and you can see where Alice Rachel is going with this installment of the Under Ground Series.
https://itsybitsybookbits.com/wp-content/uploads/2020/07/IBBB_2020_logo_sq.png
0
0
Erica Fish
https://itsybitsybookbits.com/wp-content/uploads/2020/07/IBBB_2020_logo_sq.png
Erica Fish
2018-12-03 15:32:41
2018-12-03 17:08:17
Dangerous Ground: Tina and Chase's Story (Under Ground Book 5) by Alice Rachel – Review by Erica Fish